I've seen Tuan Chong, but I haven't seen such a Tuan Chong. I picked up the butcher's knife to become a villain boss in order to spoil him; the demon king walks everywhere, and the world is afraid of becoming a dog. The translated lines at station B really"play"and correct the evil only to spoil him; I've seen Tuan Chong, but I haven't seen such a Tuan Chong, and I don't need reasons to spoil him, but I can also ignore logic; Han yunyun's performance with Wang Dongcheng in the gold medal comedy class is In the second dimension style?
The story of a young man living in a novice village before the final maze is over. The score is not high, but it doesn't matter. Just have a good time.
Young Lloyd grew up in Shenshou village. He is the weakest one in Shenshou village. Even the rabbits in the village can bully him. But Lloyd didn't know that the village was full of big boss in the eyes of mortals. Even high-level adventurers would be afraid of the name of the village. The young man went out of the village to join the army in Wangdu. His strength made him the object of admiration. Silly Lloyd embarked on the road of becoming a"hero".
Deal with all kinds of evil events, protect the people and protect their homes. He didn't know that he had become the group's pet. What he didn't know was that his chef was also behind a series of events. Finally, the boss deliberately did evil in order to pet him and make him a hero in the world. After all, peace is too long. Without bad people, we can't create heroes.
Dong Lingjun has seen the group pet, but it is the first time for the group pet to see such a story. The villains in this play have a big brain hole, which most people can't think of.
The translators who want to come to station B also feel surprised by the villain's brain circuit. They simply turned his evil slogan into"the devil walks everywhere, and the world is afraid of becoming a dog". Anyway, just want fun? Then let yourself fly.
Many manyou think this animation is illogical, not only brainless, but also mentally retarded. Dongling Jun might have thought so a month ago. What's this? Flower mania, brain powder, snake essence disease group performance. However, I recently read a comment on CCTV's gold medal comedy class. Donglingjun has a new view on this.
Wang Dongcheng's partner Han yunyun played a sketch. Han yunyun's flower crazy sister fell in love with Wang Dongcheng's robber 007 just because she was handsome. Han yunyun not only knocked down her"licking dog"boyfriend who wanted to save her several times, but also"molested"Wang Dongcheng by taking the opportunity of being a hostage. Finally, she forced the robber Wang Dongcheng to go to the police uncle for shelter. Han yunyun played the flower maniac into the realm of animation. After seeing deja vu,It has an internal flavor.
Although this sketch is absurd and illogical, the performance effect is good, and the audience's interactive cheers and laughter can be heard all the time. Mr. Chen Peisi commented:"The audience is right, I am terrified and admire you very much for daring to perform like this. They are too powerful". Peisi feels that such a book does not dare to perform itself. Yingda teacher's comment said:"this story is not tenable, but the audience is not looking at the story".
It's OK. It doesn't matter what story a work tells and whether the story is unobstructed. The character's human design is OK. Just try to perform the character well according to the human design.
If you look at"the story of a young man living in a novice village before the final maze", it is such a work. The protagonist is simple enough, very strong and somewhat unsure. Just act these out. Other characters should cooperate with him, spoil him and show their own character. It's fun to make the audience laugh. That's enough.
Routine benefits: since you mentioned the gold medal comedy class, let's talk more. For example, it is a story of a beautiful young man who knows that he will lose if he initiates a challenge and has to raise his hand to challenge a powerful boss. Some people say that Wang Dongcheng took the initiative to challenge the most powerful Sheng Wei. There is something fishy inside , the strongest challenge is to find yourself eliminated. In fact, we appreciate this courage. We can't pass it anyway. Who is different from the challenge? Anyway, Lloyd will win in the end and let the villains spoil him. Isn't it better to enhance the characteristics of his group pet? All the actors serve the play.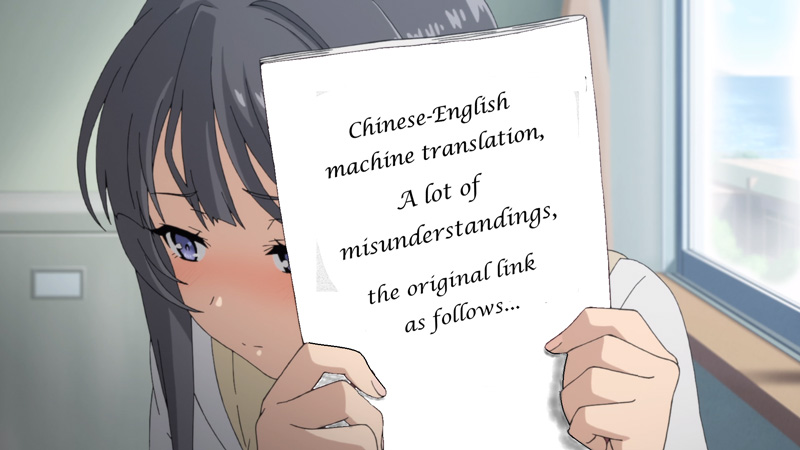 https://acg.92ylq.com/anime/suppose-a-kid-from-the-last-dungeon-boonies-moved-to-a-starter-town-3/